Westin Raleigh – Durham
Conveniently located just minutes away from Raleigh-Durham Airport, The Westin Raleigh – Durham proudly stands as the region's inaugural luxury hotel. The dynamic collaboration between Sawyer & Co. and Innovative Carpets resulted in over 6,000 square yards of beautifully designed public spaces that encompass the modern and contemporary aesthetic of the hotel.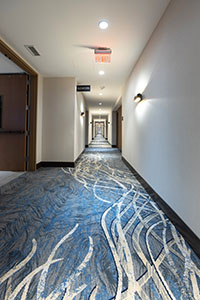 The Colony
"The Colony," referred to as "The Pink Paradise" by Palm Beach locals, received landmark designation in 2020. Innovative Carpets had the pleasure of collaborating with Kemble Interiors to create charming and colorful carpets for both the guestrooms and corridors.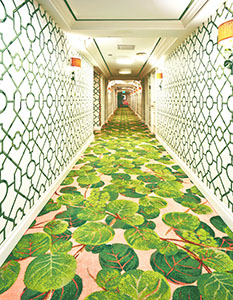 Grand Hyatt Tampa
Surrounded and located on a nature reserve at the edge of Tampa Bay, Florida, a slick and airy beauty stands serenely watching over the great view of the bay. The 444 room hotel was originally built in 1986 as a luxury waterfront hotel. Most recently, Wimberly Interiors and Innovative Carpets came together to bring the aspects of nature from its surroundings into the corridors and public spaces.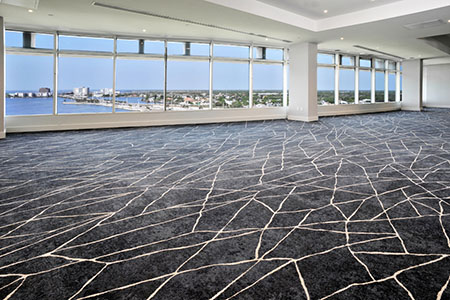 Motto Chelsea NYC
Motto by Hilton Chelsea, the 374-room hotel located in the hip and happening Chelsea neighborhood is described by Tripp McLaughlin, Global Head of Motto as "the flagship of what the Motto brand will be."
Innovative Carpets collaborated with the interiors team at Stonehill Taylor, designing modern-inspired and brightly colored custom Axminster carpets for the guestrooms and bound ax rugs for the 2 and 3 bay suites. The first floor Lobby also features a duo of Handtufted wool rugs at the reception area, as well as a fun and functional inset rug at the step-down conversation lounge – a unique gathering space! On the second floor, companion rugs complement the open public space, adding color and good vibes to a large seating group and communal table.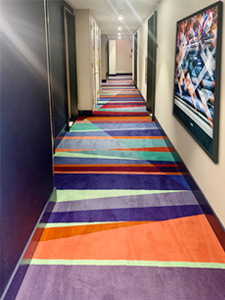 Four Seasons Troon
Nestled in the scenic desert valleys and the iconic Pinnacle Peak, Four Seasons Troon is an amazing example of authentic Southwest art alongside modern comforts and design. Innovative Carpets collaborated with Wimberly Interiors to provide both Axminster carpets for the ballroom and public spaces along with Hand-Tufted carpets in the suites. We took inspiration from the traditional old west, local artwork, and wove it together in a beautiful dusty palette to highlight the patterns of the original Native American community in a contemporary topographical style.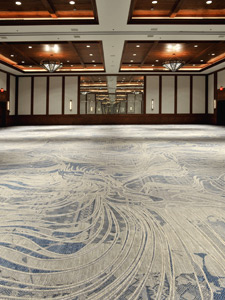 The Las Vegas Hilton
at Resorts World Hotel and Casino
Innovative Carpets was privileged to work with the entire design team of The Las Vegas Hilton at Resorts World Hotel and Casino in creating the carpets for all of their elevator lobbies and curved corridors. The design was inspired by abstract watercolors and we took cues from natures own gold, honeycomb, to emulate gold 'coins' being tossed along the floor.
With over 20,000 SY of custom axminster carpet, Innovative was able to produce a method of construction and seaming that achieved the harmonious look and modern design esthetic for the newest property on the Las Vegas strip.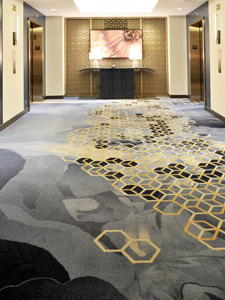 Marriott Buckhead Public Spaces
In a city that is known for its equestrian entertainment and shopping, the Marriott Buckhead Hotel and Convention Center is perfectly positioned for all events and steps away from its well known upscale luxury boutiques. Innovative Carpets worked with the talented team at Whitespace Interiors to create custom axminster carpets and hand-tufted area rugs throughout the public spaces and corridors. The design was a nod to the floral wreaths, crownpiece and bridle's found in the prestigious horse racing competitions, artfully combined with a subtle masculine diamond texture to complete the hotel's esthetic.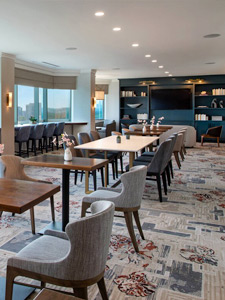 New York Marriott Marquis
In the heart of Times Square, this towering hotel is one of the most famous John C. Portman Jr. atrium designs in North America. Soaring 48 stories high, the hotel is also known for New York's only revolving rooftop restaurant and lounge with spectacular panoramic views. The interiors team of Sawyer and Company was inspired by the dazzling bright lights and electric energy reflected on the pedestrian walkways of this great urban oasis. Innovative designers transformed their creative vision into 47,000 sq/yds of axminster carpets for the guestroom corridors and suites.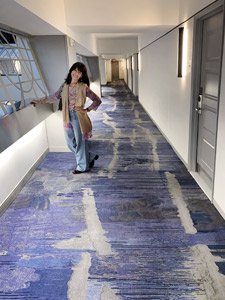 The San Antonio Marriott Rivercenter
Ideally situated just steps away from San Antonio's famous River Walk, this hotel exemplifies true Texan hospitality by providing newly transformed spacious guestrooms for families and business travelers alike. Innovative worked closely with the team at blackdog studio to create over 84 unique hand-tufted wool area rugs for the suites. The carpet design was inspired by exploding block artwork, tall architectural buildings and colored to emphasize the city's rich multi-cultural heritage.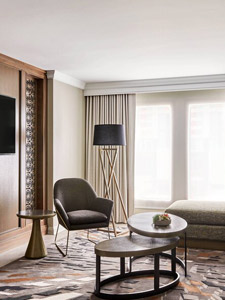 J.W. Marriott Grand Rapids
This property is beautifully positioned right on the water in the Hotel District of Downtown Grand Rapids Michigan. Innovative teamed with Whitespace Interiors to create an overall ethereal water-inspired design while emulating its character by being both dramatic and subtle in nature throughout the hotel. With over 4500 SY of Axminster carpet woven in the public areas and event spaces, our carpet brings sophistication to every soiree.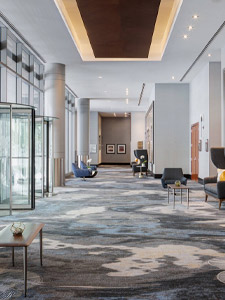 The California Club
This historic Los Angeles icon, houses one of the most prestigious private clubs on the west coast. Innovative worked with Rottet Studios to remodel 3 floors of this property with over 3500 sq/yds of Axminster Carpet, and over a dozen unique designs for the public areas, restaurant and event spaces. The carpets married both the traditional architecture of the building with a stylized contemporary approach and feel that respects and modernizes the formality and elegance of traditions and years past.
The Joseph Nashville
Authentic and comfortable yet impeccably designed, The Joseph's unique spaces invite the discerning traveler into a world of warm sophistication that delights and surprises while remaining decidedly Tennessean. Innovative Carpets was pleased to team up with INC Architecture and Design to create and deliver over 8000 sq/yds of public area Axminster carpets.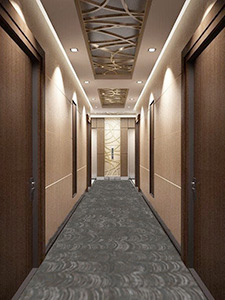 Marriott Society Hill
Located in Old City Philadelphia, on the banks of the Delaware River and in walking distance to the Liberty Bell, The Betsy Ross House and all of the Historic District of town. The designs used in this industrial style building replicate the textures of cobblestone streets that once ran throughout Philadelphia but with a modern geometric overlay to bring them up to the 21st century. Designed by Krause Sawyer, Innovative Carpets manufactured over 3000 sq/yds of custom Axminster carpets for the public spaces along with an array of Handtufted rugs.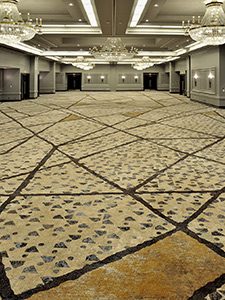 Omni Houston Westside
Designated as a quiet haven of luxury in the heart of the Energy Corridor, the designs used throughout the public spaces are the perfect balance between those realities. Soft textures overlay kinetic geometric shapes to steer visitors into the tranquil spaces replete with water features and foliage to keep the outside city at bay. Designed by Gensler Associates, 6000 sq/yds of public space Axminster Carpets was brought in by Innovative Carpets.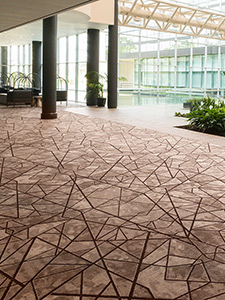 Intercontinental Chicago
Step into the airy lobby with a sweeping staircase and marble mosaic floors, and find yourself drifting into the Roaring Twenties at the InterContinental Chicago hotel, where historic origins blend into the modern luxuries of hospitality. Classic colors of gold and garnet mixed with warm tones create modern scaled scrolls over elegant street scape inspired textures. The challenge - bringing a historic hotel into the 21st century attractive to generations to come – 7500 sq/yds of Axminster Carpets was met by our Innovative Carpets designers working with Whitespace Interiors.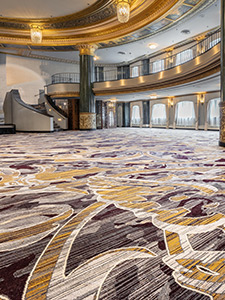 TWA Hotel – Queens, NY
Innovative Carpets were honored to be chosen to work on the inspiring TWA Hotel located at JFK International Airport in Queens, New York! Alongside Stonehill Taylor and Inc. Architecture and Design, Innovative developed timeless textured carpets throughout the corridors and public spaces of this stunning addition to the iconic Eero Saarinen-designed TWA Flight Center. The bold red color is taken from the original TWA logo and along with the simplicity of the design draws the guest through the hotel corridors, ballroom and meeting rooms while hand tufted rugs elevate the prefunction spaces!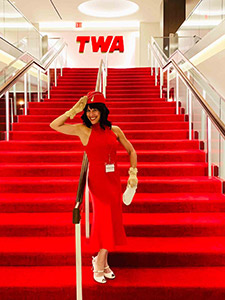 The Gwen – Chicago, IL.
The Gwen reintroduces Chicago to the era of glam and luxury in a uniquely modern way. Named for American sculptor Gwen Lux, Whitespace Interiors was inspired by the artist's work to create glamorous Art Deco carpet designs for the ballrooms, meeting rooms and prefunction areas of this downtown Chicago gem! Art Deco is defined as; a pastiche of many different styles, sometimes contradictory, united by a desire to be modern. Whitespace Designs for the Gwen certainly meet this definition!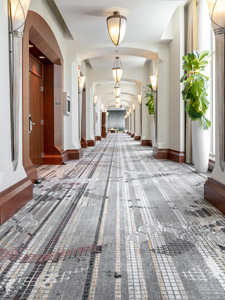 The Hyatt Regency
As the Newest and Largest Hotel in the Pacific Northwest, the Hyatt Regency Seattle is a celebration of the region. Located on Puget Sound, surrounded by breathtaking nature, guests are treated to bright, open and contemporary design. Together with LMN Architects Seattle, Innovative Carpets created a fusion of metal colors and earthy textures, mixed with a tech industry vibe in over 27,000 sq. yds of custom Axminster carpet. Like a strong cup of Seattle coffee, Innovative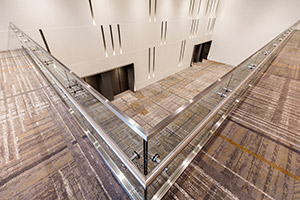 NY Marriott Downtown
New York's financial district hosts the New York Marriott Downtown. Designed by Krause Sawyer the, almost 4000 square yards of corridor carpet reflects the frenetic energy of this vibrant city district. Guests in this hotel can walk to City Hall, the Brooklyn Bridge or the September 11th memorial among many other iconic New York City locations. Views of the Hudson River and the Statue of Liberty which can be seen from the guestrooms make this a one-of-a-kind guest experience.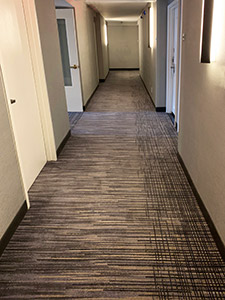 Rittenhouse Hotel
As an awarded "#1 Hotel in Philadelphia", The Rittenhouse Hotel, has long been the standard against which to measure Philadelphia's other luxury hotels. The Hotel underwent a stunning modern renovation. Innovative Carpets was pleased to team up with Hersha Purchasing and Design to deliver the tailored, classic elegance that is essential for a hotel of this caliber. The Rittenhouse Hotel is known to provide the perfect balance of sophistication and relaxation for families, business travelers, and romantic vacationers alike.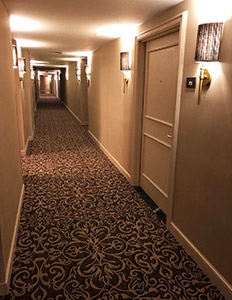 Fairmont Austin
A towering icon within a vibrant Central Business District, the new 1,048 room Fairmont Austin is uniquely located amid the lush greenery of Palm Park and Waller Creek and directly connected to the Austin Convention Center. Innovative Carpets had the immense pleasure of teaming up with the design talents of Warren Sheets Design to create and deliver 20,000 sq/yds of Axminster carpet to multiple areas of the hotel. The unique designs on display in the meeting rooms, boardrooms, prefunctions and multiple ballrooms beautifully evoke the unique location of the hotel by taking inspiration from the surrounding parks and nature. Guests indulge in exquisite dining, a pampering spa and state-of-the-art meeting facilities. Fairmont Austin engages guests with the city's famed music scene, as well as the area's celebrated cuisine and diverse artistic lifestyle.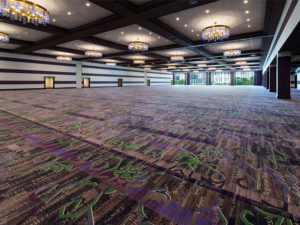 Marriott LaGuardia Hotel
Right outside of LaGuardia Airport, this modern hotel boasts an unbeatable location close to Manhattan and top destinations like Citi Field, Arthur Ash Stadium, and the Metropolitan Museum of Art. Coupled with the design expertise of New York design firm Krause Sawyer, Innovative Carpets worked to outfit multiple key parts of the hotel, which included the Ballroom, Prefunction, Meeting Rooms, M Lounge, and the Great Room. In total, the Innovative team custom designed, manufactured, and delivered over 3,000 sq/yds of beautiful Axminster carpet to the newly renovated hotel.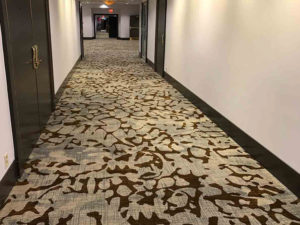 Westin St. Francis
The Westin St. Francis is an iconic hotel, modeled after the grand hotels in Europe, and opened in 1904 when San Francisco was being developed as the "Paris of the West" by the Crocker Family. The halls have been graced by nineteen US presidents, Royalty from six different countries and a long list of famous entertainers and athletes. Innovative Carpets has had the pleasure of collaborating with Forrest Perkins to create 13,000 sq/ yds of custom Axminster carpets for the corridors. Rich, cool blue tones and oversized classic elements create a timeless, yet modern, contrast to the craftsmanship of warm wood paneling, decorate ceilings and polished brass chandeliers. "Elegance is the only beauty that never fades"- Audrey Hepburn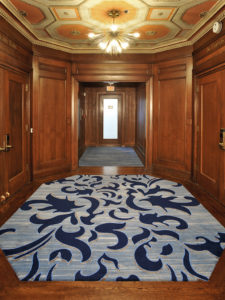 Santa Rosa Golf & Country Club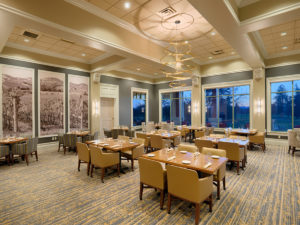 The Santa Rosa Golf & Country Club is an exclusive club in which its members enjoy Golf, Sporting activities, family fun and fine dining under one roof. It was no coincidence Castor Design Associates chose Innovative Carpets to bring their carpet designs to life! Custom Axminster carpets can be found throughout the club including the Ballroom & all fine dining areas. Club members demand an unparalleled experience during time spent at the club and Innovative has provided this venue with a visually appealing work of art beneath their feet. We are proud to have our Axminster carpets remain as a main focal point in the design scheme for years to come.
---
The Ritz-Carlton, Laguna Niguel
The Ritz Carlton, Laguna Niguel is situated atop a 150-foot seaside bluff with breathtaking views overlooking the Pacific Ocean. A luxurious Mediterranean-style resort infused with the playful, relaxed spirit of Southern California. Whitespace Interiors called upon Innovative Carpets to bring their design concepts to life, requesting custom fabricated Handtufted rugs & Axminster Carpets, throughout the Main Concourse Lobby & Public Areas. We believe these beautiful hand tufted rugs were the perfect choice for a resort that takes luxury and attention to detail to the next level. In addition to the Main Concourse, our rugs can also be found inside of Bar Raya, a gathering place in the casual confines of the Bar's sophisticated, yet friendly atmosphere.
---
Canopy by Hilton DC (The Wharf)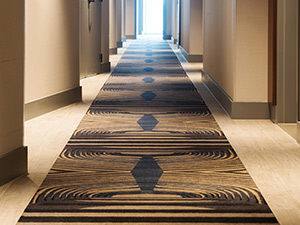 The Wharf, located in the Southwest Waterfront on the shore of the Potomac River offers gorgeous views of both land and sea! The welcoming Décor of this hotel combines a rustic feel with a contemporary twist. This project was a collaboration between Innovative Carpets alongside NY design firm, Krause Sawyer. The design team had visions of custom designed carpets that provided guests with a warm and welcoming environment. Innovative took this vision and provided the client with a finished product that exceeded expectations. Our breathtaking Axminster carpets take center stage in an area designated as "the retreat", as well as guestroom corridors and the elevator lobbies. We truly enjoyed every aspect of this project and we are confident this hotel will set the bar in the DC area for years to come.
---
The Ritz - Carlton Half Moon Bay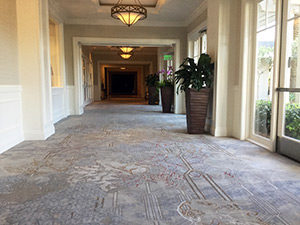 The Ritz – Carlton Half Moon Bay is set is set on a parcel of land above the Pacific Ocean and offers a secluded space with breathtaking coastal views. The grounds of this upscale Hotel include two championship golf courses, fire pits and a luxurious spa. Whitespace Interiors created an elegant and timeless design for this project and Innovative Carpets transformed their concepts into a finished product we can all be proud of. This project consisted of both Axminster carpets, as well as our custom made Handtufted rugs. Our rugs and carpets can be found in areas such as the Wine room, Library, Lobby lounge and Conservatory. Our Axminster carpets can be admired not only in the ballroom, but across 17,000 Square feet of elegant meeting rooms. Clients such as the Ritz – Carlton expect elegance and Prestige in all aspects of the hotels aesthetics, Innovative Carpets exceeded these expectations with our commitment to outstanding design and superior project management.
---
Hotel Talisa
In front of the majestic backdrop of the Rocky Mountains, Starwood's Hotel Talisa is a destination filled with understated, yet opulent, mountain comforts. Leo A Daly created transitional Colorado interiors to compliment the breathtaking scenery using a mixture of cool grays, blues and warm brown tones. Innovative Carpets brought Axminster designs to reality with 11,000 sq/yds of carpet for the Ballrooms, Prefunction Areas, Meeting Rooms and the Guestroom Corridors. Check out our Handtufted Rugs in the Game Room, Fireside Lounge, Entry and Library. You may never want to go out in the cold again!
---
The Iroquois Hotel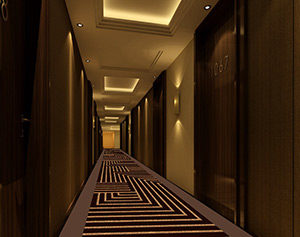 July 15, 1899, saw construction begin on The Iroquois hotel, and the unique Midtown Manhattan boutique hotel has withstood the test of time.  During the years, the historic hotel has changed hands many times, but all of the owners have managed to maintain it remarkably.  This remarkable hotel has a high class image to uphold and Innovative Carpets teamed up with the design talents at Tihany Design to deliver 6,000 sq/yds of custom Axminster Carpet into the Guest Rooms and Corridors of this prestigious hotel, where stars like James Dean and Mrs. Leecy R. Woods once resided.  Stop in to the Iroquois Hotel in order to experience one of the finest historic hotels offering boutique accommodations in NYC or simply stop in to dine in the acclaimed Triumphed restaurant!
---
Sandals Beaches Barbados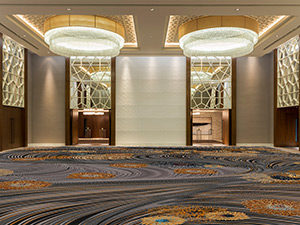 Ahhh, to be in the Caribbean! Sandals Barbados, offers undeniable luxury, accommodations, and international appeal.  You can relax to a calypso beat, enjoy the sun and sea, and explore the luxurious resort designed with the guests' utmost comfort in mind.  Innovative Carpets was more than pleased to work with the talents of Hospitality Purveyors on the Ballroom and Boardrooms of the exclusive Caribbean resort. The custom Axminster designs are sure to invoke that authentic Caribbean charm.
---
Wyndham Hamilton Park
Everything Hamilton is hip again! The Wyndham Hamilton Park just completed its $13 million dollar renovation and Innovative Carpets was pleased to work with Krause Sawyer updating the Public Areas with over 9,000 sq/yds of Axminster carpet. Taking inspiration from the many historic parks in The Garden State, a trellis motif supports a mixture of rustic natural elements and historic text in weathered shades of copper, silver and pewter. As New Jersey's self-evident premier hotel for business and pleasure travelers, The Wyndham Hamilton Park serenely blends heritage and modernity.
---
SLS Brickell
Miami flavor heats up at the SLS Brickell! Become a part of art as you cross over 1,200 sq/yds of custom axminster carpet and 3,300 sq/ft of handtufted rugs.
Once again, Innovative Carpets is excited to bring the stunning, large scale visions of Philippe Starck to life in jewel tones and gorgeous detail. Nonchalantly study your reflection in the Prefunction mirrored columns against a backdrop of black, white and an explosion of  fiery orange. Or, if you prefer, grab a cocktail, head up to the Mezzanine where our handtufted rugs invoke a world traveler, part Bond, part Indiana Jones. Make sure to be seen on the pool deck and savor the creations of award winning chefs. Give it all you got at the SLS Brickell. !Dale, La Vida Buena!
---
Hilton DoubleTree Bradley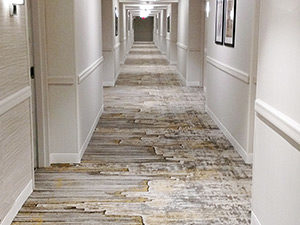 Convenience never looked (or tasted) so good. Enjoy the DoubleTree by Hilton Hotel with their signature freshly baked chocolate chip cookie. Located just minutes from the Bradley International Airport, the DoubleTree is perfect for the business or family traveler. Innovative Carpets had the pleasure of working with Sandra Foster Interiors to create over 4,000 square yards of free-flowing organic designs for the Guestroom Corridors, Prefunction and Meeting Room Spaces. The Versatility of design elevates every event to a new level of sophistication. Style now has a layover at the DoubleTree Bradley Hotel.
---
Washington Marriott Georgetown
Sometimes, it's both who you know and where you are in Washington that makes all the difference. Innovative Carpets teamed up, first, with Getty's Chicago to create classically elegant, texture infused designs for the Washington Marriott Georgetown Corridors. Just like the city, with its many layers of history, the 5,700 sq/yds of Custom Axminster Carpet effortlessly weaves layers of tailored design in complex shades of gray, as nothing is just black and white.
Next up was Whitespace Interiors, who told their own layered story with over 3,800 sq/yds of Custom Axminster Carpet for the Public Areas, featuring subtle suggestions of transparent water. Their Ballroom and Meeting Room designs offer the perfect backdrop in cool grays, warm neutrals and calming blue tones while their Handtufted rugs in the MClub and Lobby Lounge are sophisticated studies in texture.
Work and Relaxation in the heart of D.C.! If only everything in Washington were so simple.
---
Mohegan Earth Tower
The Mohegan Tribal Gaming Authority is extremely proud of the new Earth Tower. This brand new tower at The Mohegan Sun is comprised of 400 rooms. The guest rooms and suites in the Earth Tower are filled with modern features including ultra-fast Wi-Fi and intelligent technology throughout. Innovative Carpets teamed up with Daroff Design to create the patterns for more than 8,000 sq/yds of Axminster corridor carpet.
---
Marriott Westchase
The Marriott Westchase is conveniently located in the western part of Houston, near the Galleria Mall. Once completed, this renovation project consisted of more than 6,500 sq/yds of Axminster Carpet. The expansive Grand Ballroom was woven as electronic jacquard with no repeating pattern. Innovative Carpets teamed up with Leo A. Daly to create contemporary designs in exciting new colorations that complement the existing conditions of the hotel
---
Marriott Irvine
Location, Location, Location! The Marriott Irvine offers it all for guests on business or vacation. The vibrant, contemporary décor with coastal accents is on full display in 27,000 sq. feet of meeting space, 481 rooms, and the lively FLOE Lounge and Outdoor Patio. Innovative Carpets had the pleasure of collaborating with Leo A Daly to manufacture over 8,000 sq. yds of Custom Axminster Carpet for the Guestroom Corridors and Public Areas, incorporating waves of deep blue, driftwood grays and sandy neutrals. A refreshing ocean breeze has blown in!
---
The James Hotel
West Hollywood and The James Hotel are a perfect pair, a match made in true LA style. The James Hotel brings its design philosophy of infusing residentially styled properties with local, artistic creativity by teaming up with Avenue Interiors.  The Public Area carpet designs are a study in understated chic, providing supporting texture and depth to the curated art collection, fantastic California views and beautiful people.  And the award goes to….
---
Hyatt Centric Park City 
Combine a beautiful Mountain setting and upscale amenities and you have the new Hyatt Centric Park City, a AAA Four Diamond Resort! This Alpine inspired Hotel is the year round escape for families and business travelers alike, those seeking to enjoy the mountain charm without all of the crowds. Innovative Carpets teamed up with Los Angeles based design firm, Clear on Black, to design over 4,500 sq/yds of Custom Axminster Guestroom Corridor carpet that is a playful abstraction of mountain tops and winding ski trails. A new take on Nature!
---
The Kimpton Gray Hotel
Giving new life to one of Chicago's most historic structures built in 1893 by the legendary architect William Jenney, Kimpton presents "The Gray". Located in The Loop, The Kimpton Gray Hotel succeeds in creating an exceptional opulence that demonstrates a highly modern yet historically rich environment.
Innovative Carpets Collaborated with Beleco Design to manufacture over 5,000 sq/yds of Custom Axminster carpet throughout all the public spaces and corridors. With our refined designs and endless shades of grays we were able to orchestra what the hotel once was to what it resembles now. Rich in design and architecture, The Kimpton Gray Hotel is truly a one of a kind Boutique Hotel.
---
Kimpton Journeyman
The Kimpton Journeyman became the very first hotel in the historic 3rd Ward section Milwaukee when it opened. The interior is described by some as, "warm industrial." Interior design firm Warren Red, paid special attention to include details inspired by the city's history of the locomotive industry. Innovative Carpets worked closely with Warren Red to take their design concepts and bring them to reality in all the public areas.
---
Four Seasons Austin Hotel
The Four Seasons Hotel Austin is a 9-story hotel located on the shores of Lady Bird Lake, a reservoir of the Colorado River of Texas in Downtown Austin. According to many locals, this luxury hotel sits on one of the best plots of land in the city which embodies everything that makes Austin's outdoor lifestyle so appealing. The 291 guest room hotel offers an interior that includes elements of flagstone and native art which reflect upon the history of Austin. Innovative Carpets worked with the design team at Whitespace Interiors to create elegant patterned carpets in the public areas which drew inspiration from the glistening and reflective waters of Lady Bird Lake.
---
The Camby Hotel
The new Camby Hotel, formally The Ritz Carlton, is located in Phoenix. The hotel was inspired by its location near the city's historic Camel Back Mountain. The Camby combines innovation, sophistication and a spirit of celebration for those who prefer to add a bit of local flavor to their business and distinction to their play.
Innovative Carpets collaborated with Stonehill + Taylor on over 7,000 sq/yds of Custom  Axminster carpet to create vibrant designs in the guestroom corridors and sophisticated woven-to-plan public area carpets that exude polish, coupled with creativity.
---
InterContinental Chicago
InterContinental Chicago sits prestigiously on the Magnificent Mile located in Chicago, Illinois. Rich in history, boasting stories of an Olympian piercing the water of the 14th floor indoor pool to the Grand Ballroom mural restored by Lido Lippi, whom it was said consulted on the restoration of the Sistine Chapel. Working closely with Whitespace Interiors to compliment the heritage and the stories while updating the Ballroom and adjoining Function Space, Innovative & Whitespace teamed together to bring historical elements in a fresh layout. The compliment to a team well played resulting in a new fresh salute to a historical design story.
---
W SEATTLE
When in Seattle, sore to amazing heights, 26 stories to be exact. At the W SEATTLE, Innovative Carpets design studio collaborated with the talents of Krause + Sawyer to define high-style in Seattle's beacon of culture and contemporary flair.
Uniquely designed corridor carpets, with an urban flair, tell the tale of vibrancy, leading guest to spectacular views of the pacific northwest sky. And for those seeking ultimate luxury, prepare yourself for over-the-top extravagance in the EXTREME WOW SUITE. Taking inspiration from the mountainous views, this dynamic carpet design was woven-to-plan for a custom fit and value-engineered to perfectly suit the suite!
For those seeking contemporary style in Seattle, you have arrived – W SEATTLE !
---
The William Vale Hotel
The Williamsburg section of Brooklyn is eagerly awaiting the opening of the new architecturally sleek Williams Vale Hotel. The Williams Vale sets a new standard for Brooklyn with its world class hospitality and breathtaking views of the Manhattan Skyline. The internationally acclaimed design firm Studio Munge drew upon timeless historical shapes achieving a fresh approach using colors and textures. In collaboration, Innovate Carpets created original patterns in both Axminster and Handtufted Carpets to deliver the edgy yet timeless results in all the guestrooms, suites, and public areas.
---
New York Marriott Brooklyn Bridge
Situated within the iconic, yet charming, neighborhood of Brooklyn Heights, the New York Marriott Brooklyn Bridge welcomes guests with elegance and city-style like no other hotel in this world-famous New York Borough.
With the design expertise of Krause +Sawyer, the hotel renovated their vast public areas which included 32 meeting/event spaces.  In collaboration with Krause + Sawyer, Innovative Carpets worked hand-in-hand to create over 5,500 sq/yds of custom axminster carpets and nearly 3,000 sq/ft of handtufted wool rugs.  The fresh, updated abstract style of these carpets now reflects the dynamic vibration of this popular and distinct neighborhood.
---
Four Seasons Washington D.C.
Nestled amid the historical treasures of the Nation's Capital. This Four Seasons Hotel is the only five star, five diamond luxury hotel in Washington, D.C. Innovative Carpets had the distinct pleasure of collaborating with Forrest Perkins on the Corridor Renovation consisting of 4,000 sq/yds of a very sophisticated and unique Axminster design.
---
Palms Place Hotel
Palms Place Hotel & Spa in Los Vegas is a full service boutique Hotel comfortably removed from the non-stop action of the Palms Casino, this tower is a study in eloquence and relaxation. Ownership contracted Innovative Carpets to assist them in renovating 39 Floors of guestroom corridors. Our 13,000 sq/yds of custom Axminster Carpet was manufactured in order for the guests to "escape to the extraordinary."
---
Marriott Wardman Park
When you arrive at this sophisticated hotel, you'll find a charming neighborhood in the heart of Washington D.C. Set on 16 acres, you are just a few steps away from the exciting nightlife of Dupont Circle. Innovative Carpets had the pleasure working with Leo A Daley on the complete Guestroom Corridor Renovation which was comprised of over 9,000 sq/yds of Custom Axminster carpet.
---
River City Casino
This unique and bold twin riverboat casino complex exudes a culture of relaxation and fine dining while still offering fast-action and heart racing gaming. You may choose to be pampered and dined or mix it up with live music, comedians or world-class prize fighting. There is literally something for everyone at River City Casino.
Innovative Carpets collaborated with renowned design firm Marnell Corrao Associates to manufacture over 12,000 sq/yds of Axminster carpet for the casino. Intent on maintaining the refined, luxury experience, we developed enduring yet lavish coordinating patterns that make River City Casino & Hotel a must-see, must- play, must-stay designation.
---
SLS Casino Las Vegas
SLS Casino Las Vegas brings it's playful yet approachable style and sophistication to the legendary site of the former Sahara Hotel and Casino.
Innovative Carpets is proud to be a major part of its transformation. Working in collaboration with the legendary Philippe Starck; Innovative Carpets manufactured photographic images of iconic celebrities who were guests at the Sahara, including Frank Sinatra, The Beatles, and Dean Martin. The list goes on.
The Interpretation of Renaissance paintings grace the casino floor where our highly sophisticated Electronic Jacquard weaving manufactured over 8,000sq/yds of non-repeating designs. This is in addition to all of the other unique carpets we manufactured for all of the other public areas.
---
Hilton Anaheim
The Hilton Anaheim offers a timeless atmosphere whether you are looking for family fun at nearby Disneyland or conducting business in the adjacent Anaheim Convention Center. Partnering with the design team of Cole Martinez Curtis & Associates, Innovative Carpets manufactured over 19,000sq/yds of modern, sleek corridor axminster carpet patterns that embody the vibe and energy of not only the hotel, but the surrounding community as well.
---
Marriott Marquis Washington DC
This brand new 1200 Marriott Marquis hotel is a distinctive addition to the nation's capital. Poised to be the city's next social hub the MMDC is adjacent to the Walter E. Washington Convention Center and conveniently located near DC City Center and Penn Quarter. With multiple ballrooms and 54 break out rooms, Innovative Carpets' 23,000 sq/yds of custom axminster carpet grace all the public areas. This is in addition to the custom handtufted rugs situated in the grand atrium lobby.
---
Belterra Casino Resort & Spa
Known as Indiana's Premier Riverboat Casino, The Belterra Casino Resort & Spa is an experience you will never forget. This jewel, located on the Ohio River in Switzerland County, provides a "24/7" experience specializing in luxury accommodations, a grand casino, lavish spa and fine dining.
The renovation of the axminster public area carpets resulted in patterns with time-honored elegance and polished charm. Working closely with ownership Innovative Carpets was determined to pay homage to the existing classic design intent. Stylishly appointed with 1800 square yards of axminster inset area rug effects and 11,000 square yards of axminster broadloom carpet for the first and second floor deck spaces, we've strived to not only meet but exceed the guest's expectations.
---
Omni Austin Hotel Downtown
Sophisticated luxury defines the newly renovated public area axminster Carpets at the Omni Austin Hotel Downtown. With its premier location, in the capital city and the Heart of Texas, this property lends itself to both the eclectic vibe of the 6th St Entertainment District and the professional landscape of the Austin Convention Center.
Innovative Carpets partnered with Leo A Daly in developing timeless, refined and stately patterns totaling 6000 square yards of axminster carpet throughout the Ballroom, Meeting Room and Prefunction spaces of this classic property. Whether you are in town for the jet-set music atmosphere or the relaxing, opulent pampering this property has to offer, your satisfaction is sure to be guaranteed.
---
Fess Parker Santa Barbara Hotel
Located near one of Southern California's most historically panoramic cities, this 24-acre property is a must-see for all vacationing in the Santa Barbara area. The design intent for the newly renovated corridors consisted of 5,000 sq/yds of axminster carpet was to capture the architectural details reflected in the local Missions and to pay homage to the Spanish Colonial style of the hotel. Working closely with our design partners resulted in an organically-simplified pattern with mission style elements that have an inherently timeless quality.
---
Marriott Newport Beach /Marina del Rey
Working in collaboration with Host Hotels and Resorts, Inc and Design Group Carl Ross has resulted in two flawlessly executed Innovative Carpets projects this past year.
Nestled in the center of world-class shopping, championship golf courses and the tranquil Newport Beach Coastline is the Newport Beach Marriott Hotel and Spa. The $70 million transformation of its guestrooms and corridors resulted in an updated, coastal destination property that embodies Coastal Living.
A distinctly modern, yet sophisticated design has transported the corridors of the Marina del Rey Marriott into the 21st Century and beyond. This 370 guestroom property exudes style, taste and glamour.
Collectively, these 2 projects comprised over 7,000 sq/yds of custom axminster carpet.
---
Boomtown Casino, Bossier City, LA
When the time came to renovate the Boomtown Casino "Known as the friendliest casino in Louisiana", Innovative Carpets was chosen to supply over 8,000 sq/yds of custom axminster carpet for the casino floor.
---
Hyatt Regency Minneapolis
Perfectly situated on Nicollet mall the contemporary Hyatt Regency Minneapolis pays tribute to the unique culture of Minnesota. Innovative Carpets is proud to have been part of the hotel's renovation which consisted of manufacturing over 8,000 sq/yds of custom axminster carpet.
---
Rosewood Abu Dhabi
Redefining luxury in the UAE, the new Rosewood Abu Dhabi is an iconic five-star, high-rise hotel and residences with extensive amenities for business professionals and travelers alike. Collaborating with the creative expertise of BBG-BBGM's New York and Abu Dhabi offices, Innovative Carpets designed and manufactured over 3,000 square yards of custom axminster carpet to adorn the hotel's public spaces.
The contemporary-styled carpet, infused with rich colors and traditional elements, complement the sophisticated Ballrooms and Prefunction spaces that showcase panoramic views of the Arabian Gulf. All custom patterns were designed and manufactured "woven-to-plan" to minimize waste and maximize the dramatic impact of the uniquely-shaped rooms. With homage to traditional Middle Eastern architecture, the carpet designs were inspired by the surrounding landscape of the golden Abu Dhabi desert sand, juxtaposed to the crystal blue sea.
---
Solaire Resort and Casino
Innovative Carpets continues to expand globally with its design and production of over 80,000 square feet of handtufted rugs for Manila's Solaire Resort and Casino.
Purported to be one of largest handtufted orders to date, Innovative had the privilege of working directly with famed architectural firm, Steelman Partners, world renowned for their architecture, planning and award-winning interior design.
Intending to provide guests with an authentic "Las Vegas" experience, the custom-made wool rugs feature vibrant colors and vivacious patterns. Innovative Carpets worked intimately with Steelman for all 51 specifications, manufacturing more than 120 custom-designed rugs for the public areas, private gaming salons and assorted VIP suites.
---
Hotel Palomar Phoenix
Ideally located at CityScape, Phoenix's shopping, dining and entertainment hub, Hotel Palomar is an experience in modern, yet timeless style and sophistication that represents the area's transformation from sand to city to solace. The community's influence is vividly seen in this boutique hotel's aesthetics, where mirrors are framed by leather belts, daisy chains hang burnt-red lanterns, and guests mingle in the open-air lounge.
In keeping with this theme, Innovative Carpets manufactured over 5,000 square yards of axminster carpet for the hotel's corridors and public spaces.
---
The Beverly Hills Hotel
It's always impressive to be seen in the lobby of the Beverly Hills Hotel, especially when you're the carpet! This summer, as the world famous Beverly Hills Hotel celebrated its 100-year centennial, the property embarked upon a Lobby restoration honoring the legendary glamour of the iconic property and the history of the Beverly Hills community.
For this project, Innovative Carpets had the honor of collaborating with Tihany Design to create elegant, yet modern, handtufted wool carpets to complement the Beverly Hills Hotel's uniquely shaped lobby. For this project, Innovative manufactured over 10,000 square feet of handtufted carpets in record time to coordinate with the celebrity-studded June centennial celebration.
Click here for the Hotel Business article.
---
Grand Hyatt San Francisco
As part of the Grand Hyatt San Francisco's multi-phased $70 million renovation, Innovative Carpets collaborated with indidesign to manufacture over 4,500 square yards of axminster carpet for the property's corridors and public spaces. The newly transformed hotel has redefined urban luxury on San Francisco's Union Square.
---
L'Auberge du Lac Casino Resort
Towering above Lake Charles stands Louisiana's L'Auberge du Lac Casino Resort, a 26-story hotel complex that combines luxury with down-home comfort. Overlooking the beautiful Contraband Bayou, the resort offers guests non-stop gaming action in its expansive 70,000 square foot casino; its floors complemented by Innovative Carpets' arts and crafts style axminster carpet. Totaling over 14,000 square yards, Innovative's custom designs enrich the unique décor of L'Auberge's lobby, promenade and casino areas.
---
Hotel Bel-Air
Following a two-year transformation, October marked the highly anticipated unveiling of Los Angeles' Hotel Bel-Air. Since its opening in 1946, this boutique hotel has served celebrities, heads of state and dignitaries and is part of the Dorchester Collection group of international luxury hotels.
As part of the renovation, Hotel Bel-Air's 103 guest rooms and suites have been modernized to reflect a new generation of design aesthetic and now feature over 2,000 square feet of custom-designed Innovative Carpets handtufted area rugs. These hand-sculpted, multi-level rugs are indicative of the newly restored Bel-Air glamour renowned during the 30's, 40's and 50's. The bold graphic patterns are fresh, yet undeniably elegant, to complement the modern luxury of this storied hotel.
---
The Chatwal
An exclusive luxury hotel reviving the elegance of Old New York. Built in 1905, this Stanford White-designed building was originally a clubhouse for The Lambs, America's first professional theater club. Legendary members included such celebrities as Charlie Chaplin, W.C. Fields, John Barrymore, Spencer Tracy and Fred Astaire. Today, the landmark property is a popular spot for contemporary celebrities who appreciate the allure of Art Deco style coupled with the modern flair of an iconic masterpiece.
For this work of art, Innovative Carpets collaborated with legendary design firm The Office of Thierry Despont to create the Deco-inspired custom handmade wool rug for the hotel's primary function space at the Cellar Level. By engineering an ultra-durable spec, Innovative interpreted and delivered the designer's vision: a masterpiece wall to wall rug. The over-size wool rug is a designer's dream in that it's a dramatic focal point in the room, yet with the muscle and brawn to entertain the foot wear and traffic of today's crowd.
In addition, Innovative also produced the axminster carpets for the Guest Corridors.
---
Tropicana
Las Vegas developers have had the golden touch when it comes to rebranding. Nowhere is this rebranding showcased more then at the newly renovated Tropicana Resort. Innovative Carpets was proud to manufacture over 20,000 sq/yds of corridor carpet which encompassed both of the historic skyline towers of the the Tropicana. CEO Alex Yemendijuan, combined the United States greatest party cities to create a Miami South Beach Casino in the Las Vegas Desert. Miami Vibe and Style with Las Vegas gaming, what else could a hip vacationer want?
---
The Eventi - a Kimpton Hotel
Located in the historic Chelsea neighborhood on Avenue of the Americas at 30th Street, New York City. The Eventi's interiors are a reflection of its artful surroundings. Under the design direction of McCartan, Innovative designed and manufactured all of the custom axminster carpet for the dynamic Ballroom/Function spaces, as well as the Guest Corridors.
There is nothing "usual" about the creative vibe one feels as a guest of this property. Exceptional design layouts in both Ballrooms, free of boundaries or borders, were woven-to-plan resulting in a series of "floating carpets" amidst a sea of subtle blue tones. Outside in the Prefunction areas, rich tone-on-tone wool handtufted rugs welcome visitors as they prepare to enter two of the most extraordinary meeting/function spaces in all of NYC, elevated above the busy city streets of NYC.